September 18, 2014: Omnium Design is now a member of the Apple Consultants Network. We look forward to listening and learning about your needs, then working with you as a "digital coach" to show you how to get more out of your Apple devices and computing life in general.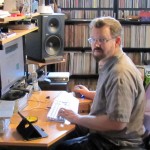 Over the years, we've helped many clients – musicians to therapists, non-profits to record dealers – streamline workflows, manufacture products and market their businesses in print and on the web. We're ready to help you develop a web presence framework, be it a simple static page or two; a free or self-hosted WordPress site you can maintain on your own; on up to a custom ecommerce site powered by NetAcceleration. Then, we'll coach you in expanding your brand to Facebook / Twitter / YouTube, and developing email marketing messages using services such as Constant Contact and MailChimp.
We also offer multimedia production services: audio recording and production, video editing, print layout, and "post-record-label" manufacturing and marketing for independent musicians.
Please contact us to start the conversation; the first 15 minutes consultation is always free.
---
You're welcome to scroll down to read more about recent projects and events we've been working on…