KFAI radio ads for the MN Record Show
One of the most enjoyable things I do these days is selling vinyl at the MN Record Show. I've found I like standing around all day talking about records – what a surprise.
On the tech side, a few years ago, I helped the Record Show move their website over to WordPress.com.
Recently, I was asked to do a year's worth of 30-second sponsor ads for the show to run on KFAI radio. The next record show is Saturday April 4th — here are those pieces:
#1 with music by Boiled In Lead "The Sunset" from the album "Silver"
(a metal-influenced version of a trad. Irish slow air learned from Altan)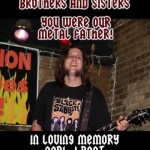 This one mentions the late Earl Root who coined the phrase "rediscover vinyl lust" and brought extreme metal to KFAI with the "Root of all Evil" show. Listen to Earl on this KFAI promo piece from 1988: "bite the knob off and chew it up and leave it on Fresh Air Radio" (blogged by GoJohnnyGo) 
#2 with music by Art Gibson "No More Records"
Here's the full song: