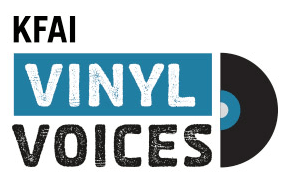 This past weekend, I got to play records (and a few digital files) for about 5 of the 48 hours thanks to the KFAI Vinyl Voices crew. Captured both sets for your potential enjoyment here:
Set #1 with Patti Walsh at Harriet Brewing for the M2 Foundation
Saturday 1:30 pm: Both Patti and I work with M2; a young nonprofit organization that advocates mindful living practices. Executive Director (and master drummer) Marc Anderson and Saint Paul visual artist Beth Barron showed up at Harriet Brewing with gifts of food (supplementing the fine foodtruck fare of Red River Kitchen) while Patti and I worked the turntables, with a few digital files thrown into the mix.
Harriet's a wide-open set; it's Saturday afternoon, the big doors are open to the patio, and folks seem to be more interested in pounding nails and beer. So Patti and I took it way out in an ecstatic direction…
(playlist is below; audio hosted at archive.org)
Set #2 at The Third Bird for Sunday brunch
Sunday 12 noon: At the Bird, I usually play 7-inch singles, slanting towards vintage R&B and I almost always include an obscure Prince B-side.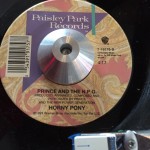 Music at the Bird is more "inside the box" than Harriet ("no jazz flute!") but there's room to move through different styles in a 2-hour set.
I came on at noon, right after Cory Washington, and this is what came out:
(playlist below; audio hosted at archive.org)
---
Harriet Brewing Playlist
Ganges Orchestra – Meditasian
Pink Floyd – Interstellar Overdrive
King Crimson – One More Red Nightmare
Sir Richard Bishop – Taqsim for Omar
Nusrat Fateh Ali Khan – The Realm of Love
Steve Tibbetts – The Alien Lounge
Daevid Allen with Euterpe – Wise Man In Your heart
Thelonious Monk – Thelonious
Ali Farka Touré – Ni Foci
Mick Harvey – Glorious
The Red Crayola – Free Form Freak Out Hurricane Fighter Plane
Sun Ra – Otherness Blue
Fripp and Eno – Wind on Water
Brian Eno – Under
La Düsseldorf – Düsseldorf
Pink Floyd – Summer 68
Boiled In Lead – Neda Voda
Sun City Girls – Caravan of Scars
Terry Brooks & Strange – Ruler of the Universe
The Invisible Hands – Slaughterhouse
John Cale – Hello, There
Gong – The Oily Way
Felonious Bosch – F.L.T.
Kristi Stassinapolou – Pathiraki
Steve Reich – Come Out (Ken Ishii remix)
Miles Davis – So What
Black Sun Ensemble – Da Da Is Ga Ga
Chrome – Fire Bomb
Rangda – Plugged Nickel
Pere Ubu- Thriller
Moondog – Improvisation in 4/4
Marc Anderson – Kelele
Kraftwerk – Ruckzuck
The Unthanks – Starless
Third Bird Playlist
Syl Johnson – Take Me to the River
Wilson Pickett – Funk Factory
The TNTs – I'm So Jealous
J.J. Jackson – Come See Me (I'm Your Man)
Dub Syndicate – A Taste of Honey / North of the River Thames
3 Mustaphas 3 – Linda Linda
James Brown – Bring It On
Crown Heights Affair – Sexy Ways
O'Jays – Don't Walk Away Mad
New Birth – I Can Understand It
The Chi-Lites – Bottoms Up
Roxanne with UTFO – The Real Roxanne
Bow Wow Wow – C30 C60 C90 Go!
Patti Smith – 54321
Jefferson Airplane – She Has Funny Cars
The Replacements – Alex Chilton
Jesus And Mary Chain – Surfin' USA
The Ventures – Secret Agent Man
Dave Ray & Tony Glover – Mattie Mae
Little Anthony And The Imperials – Shimmy Shimmy Ko Ko Bop
The Dutones – The Bird
Willie Mitchell – Beale Street Mood
Eddie "Lockjaw" Davis – Tangerine
Cannonball Adderley Sextet – Tengo Tango
Beirut – Postcards From Italy
Me Enveno de Azules – Juan sin Miedo
Booker T and the MGs – Green Onions
Billy Preston – Space Race
Bootsy's Rubber Band – Body Slam
Prince and the NPG – Horny Pony
Con Funk Shun – Chase Me
The Miracles – Love Machine Part 1
Ian Dury and The Blockheads – I Want To Be Straight
Mighty Imperials – Joseph's Popcorn
Dennis Coffey – Scorpio
New Age Steppers – Fade Away
---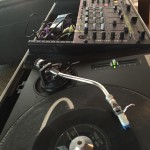 June 7, 2015 — added today's Third Bird session, tag-team spinning 45s from 11am to 1pm with Tom Novak of the MN Record Show.
(playlist below, audio hosted at archive.org)
Jerry Lee Lewis – Drinking Wine Spo-Dee O'Dee

Lottie Jo Jones – You Are My Sunshine

Spoonbread – How Can You Mend A Broken Heart

The Mirrettes – To Love Somebody

Howard Roberts Chorale & Orch – Funky, But?

Monk Higgins – Who-Dun-It?

The Five Stairsteps – Danger! She's A Stranger 

Counter Points – Come Together

Gene Ammons All Stars – The Happy Blues (Part 1)

Willie Mitchell – Crawl (Part 2)

Booker T And The Mgs – Heads Or Tails

The Bar-Kay's – Don't Do That

Rufus Thomas – The Breakdown (Part 1)

Harold Betters – Tall Girl

Shirley Ann Lee – How Can I Lose

Al Braggs – Cigarettes And Coffee

Willie Gauff And The Love Bros. – Whenever I Can't Sleep

Etta Jones – Nature Boy

Gerri Granger – C'Est Si Bon

Little Milton – At The Dark End Of The Street

The Parliaments – (I Wanna) Testify

The Bar-Kay's – Son Of Shaft

Merit Hemmingson – Mandom Mod Och Morske Män

Maceo And All The Kings Men – Thank You For Letting Me Be Myself Again (Part 2)

King Curtis And The Kingpins – 8th Wonder

The Norfleet Cousins – Beggar Love

Linda Jones – Ooh Baby You Move Me

The Vells – You'll Never Cherish A Love So True ('Til You Lose It)

Lorraine Randolph – It's Over Between Us

The Lovelites With Patty Hamilton – The Way That You Treat Me Baby

Ann Peebles – Heartaches Heartaches

Soul Messengers – Go To Proclaim

Desmond Dekker – Perseverance 

Smokey 007 – C-C-Rider

Rip Rig + Panic – Do The Tightrope

The First Family – Control

Dynamic Superiors – Nowhere To Run (Part 1)

Ambassadors Of Soul – Cool Sticks Beat (Part 2)

Brothers Of Soul – Love Is Fever

The Stylistics – You're A Big Girl Now

Albert Collins – Do The Sissy