Wednesday, September 17th I had the pleasure to do a 2-hour DJ set at John Kass' new records / books / art store in South Minneapolis, Dead Media.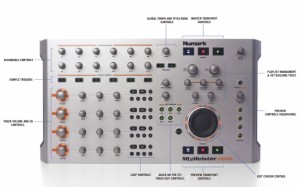 Their turntables weren't ready yet, so it was a laptop set… easy to remember what I played and capture the result. And there was no need to stay in any music style box, so the tracks ranged from Cypress Hill to Värttinä, Edgar Winter to Nick Drake…
I used a (state-of-the-art-in-2008) controller called the MixMeister. Most of the buttons on this thing don't work properly (or at all) but it does let you build up lists of future tracks and sort by key and BPM. In the market it died pretty quickly since it doesn't have the standard DJ mixer layout. (In other words, I picked it up on clearance at Guitar Center.)
Hope you enjoy the set:
I'll be back to Dead Media in November for KFAI's Vinyl Voices series.
1 No More Records / Art Gibson
2 The Khaleegi Stomp / Transglobal Underground
3 Kylä Vuotti Uutta Kuuta / Värttinä
4 Jacob's Ladder (Not In My Name) / Chumbawamba
5 Bjorn Again Polka / Edward The Second And The Red Hot Polkas
6 Im Nin'Alu (Played In Full Mix) / Ofra Haza
7 Saint James / Snakefarm
8 Northern Sky / Nick Drake
9 Carnival Of Souls / Combustible Edison
10 A Minha Menina / Os Mutantes
11 Feelin' Alright / Mongo Santamaría
12 World is a little bit under the weather / The Meters
13 Teasin' / Cornell Dupree
14 I Guess I Should Go To Sleep / Jack White
15 Coldsweat / Sugarcubes
16 Shut Up And Dance / Pearl Harbor & The Explosions
17 Icky thump – whole lotta love / dj Zebra
18 Stoned Is The Way Of The Walk / Cypress Hill feat. Funkdoobiest
19 Dizzy Dizzy / Can
20 Frankenstein / The Edgar Winter Group
21 Pertaining To The Beat / The Evolution Control Committee
22 Sly Beyonce Walks Like A Nerd / Go Home Productions
23 The Reel Hip-Hop / dj BC
24 Da Sound Of Da Irish Police Band / dj BC
25 Harry's In Heaven / Martyn Bennett & Martin Low
26 Horo Ghoid Thu Nighean / Mary Jane Lamond
27 Ottajat / Värttinä
28 Gankino Horo / Reptile Palace Orchestra
29 Tomorrow Never Knows / Danielle Dax
30 Justified & Ancient / The KLF
31 Smells Like Teen Spirit / The Moog Cookbook
32 You Know I'm No Good / Wanda Jackson
33 Purple Haze / Kronos Quartet
34 Kiss / Richard Thompson
35 Sea Song / Rachel Unthank & The Winterset
The full set is hosted at archive.org