Kari Tauring's Nordic Kickstarter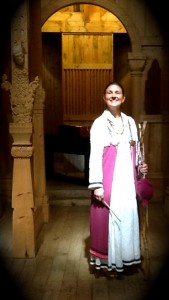 I've been playing music with Kari Tauring for some five years now. We live about 10 blocks from each other in South Minneapolis and have collaborated on two recordings and a number of live performances, ranging from simple acoustic duo concerts to multi-instrumental electronic excursions through centuries of Nordic Roots music. She's a brilliant improviser, and brings a storyteller's skill to traditional ballads sung in ancient Norwegian dialects that most Norwegians no longer speak.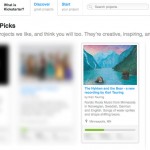 We're finishing up a new studio recording called
The Nykken and The Bear and have set up a Kickstarter campaign to fund it. Working with longtime collaborators Scott Nieman (Felonious Bosch) and David Stenshoel (Boiled In Lead) this record is two suites of songs and spoken word pieces about the nykken (mischievous water spirits) and the bear (fearsome shape-shifter) mixing new arrangements and adaptations of traditional songs with spoken word pieces. The cover art is a painting by Aneesa Adams.
On the project, I've been playing acoustic and electric bass, as well as an eerie siren-tone on a heavily-effected e-bowed electric dulcimer (we shot some in-studio video rolling a glass slide up and down the strings, but the video was lost; you can hear it on the song "Heiemo" starting at about 3 mins 10 sec in the preview video.)
I shot and edited this piece with Apple's Final Cut and the amazing Zoom Q3HD camera. We also were pleased to get quick permission to use a few clips from the Norwegian reality show Alt For Norge where Kari was a first-season contestant.
While I don't like to promise (or even discuss) projects before they're 99% finished, it's looking very good that we'll have the entire album completed by the time the Kickstarter finishes up on Monday February 25th. This week Kari and I are developing the package layout, as we watch the project gain support to approach (and hopefully exceed) its modest goal.
Kickstarter staff have highlighted the project by putting it on their "Staff Picks" page; I hope you'll check out the project and consider backing it. We'll be shipping out the discs as the days get longer and the snow begins to melt.
---
To finish off, here's a live performance "Huldre" video from 2009 at The Capri Theater in North Minneapolis. "Drømte" dates to around 1300 and is the oldest known secular song in the Nordic tradition. (For many years, the melody was played between programs on the national radio service in Denmark.) Every time we play it, this epic journey takes a different course.