Regarding "The Splendor of Vinyl"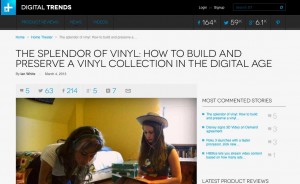 On Monday, DigitalTrends posted an article by Ian White on "The Splendor of Vinyl" – in general, I think it's pretty accurate, but since I got all commenty on it over at the LinkedIn Vinyl Record Collecting Network group, I figured I'd repost that here.
With the vinyl surge in full effect, any article that references the "death of the record store" deserves a bit of pushback.
Most of this article is solid advice — however…

* the women in the picture are destroying their records by playing them on that vintage portable

* "The sad truth is that there are very few record stores left…"

I know he's generalizing, but in the Twin Cities, this is completely wrong. If I remember a recent conversation correctly, five vinyl stores have opened here since the beginning of the year, and there are at least four local record shows between now and the 1st week of May. Locally, I admin http://popuprecordshop.org to help spread the word about record shows and other vinyl-selling occasions.

* "Used records have become far more expensive"

Yes and no. Online sales listings and results are now what determines pricing – and I agree that there's more distance between high and low. But there's also a "race to the bottom" trend in pricing. A few times a year, I *lower* my prices on records that haven't yet sold.

As ever, it's all about title, condition, and the number of copies originally pressed/sold. Yes, Pink Floyd / Velvet Underground / Nick Drake records command a higher price, but you can still get Olivia Newton John (or even Elton John) records cheaply. And there are a lot of amazing records by little-known artists out there that still sell online for well under $10.

* Speaking of Floyd, "Dark Side of the Moon" for $2? Unlikely. But I would price a VG later pressing without the posters at about $9.

* "Vinyl – even new vinyl – should be cleaned before you play it."

Never found this to be necessary. The SpinClean is a great piece of gear, but if you're at the end of a cleaning run, the dirt suspended in the fluid would mess up a new record.

* The Ikea Expedit is a GREAT record shelf, extremely cost-effective.

* After steering everyone to the Internet for vinyl, the author completely fails to mention hardcore sites like Discogs, GEMM, CDandLP.com, Music Stack, CollectorsFrenzy, etc etc.

Discogs in particular is perfect for someone new to vinyl since it distinguishes between the various editions of any release in all formats.

Worse, he only mentions his worst scare story about an online seller who over-rated an expensive record (or perhaps it warped in transit).

When I sell online, I try to under-rate everything I sell, and if the customer is not satisfied, they can return the record for a refund.
If you're interested in seeing what vinyl I've got available, it's online at omnidrew.gemm.com, in South Minneapolis at Forage and I have a table at most of the events tagged at popuprecordshop.org. Finally, one of the five new record shops in the Twin Cities for 2013 is run by my friend and client GoJohnnyGo.