Phenomena related to le morte d'Bosch
Felonious Bosch has finished its 8-year run playing "music from the new dark ages" in the Twin Cities and beyond.
The project finished on a high note with the release of a final album called Phenomena. Listen: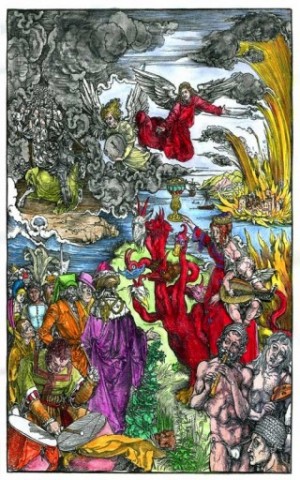 The graphic design side of the project took some twists along the way, but I was saved by the Internet (again). Originally I had thought we were going to make a compilation of these new recordings with the band's cassette-only studio improv release The Bent Slinky Session. That tape used a David Stenshoel watercolor-enhanced version of a Durer woodcut (at right) which had never been properly printed.
But democracy intervened. Instead of dumping out everything, the band decided to focus on our last set of eight songs; three covers and five originals. So the music was all done, but there was absolutely zero in the way of a graphic design.
As a desperate joke, I whipped up an homage to The Beatles' White Album (we would have been #37 to do this). Could have been cool to print this on really nice paper, but… meh.
It was getting late. So I put the album title "phenomena" into Google. Within a few pages of image searching, I found these amazing photographs of "entoptic phenomena" by William Hundley (originally from MN, now living in TX).
A few quick emails, and we'd established a license agreement for three enigmatic images to illustrate the package. These are from the "digital booklet" format to go with the downloads.
So thee Bosch is over, and it's been a good run. Hope you enjoy these final phenomena.
Available on compact disc from Hearful and Amazon, with the five original songs up on iTunes.