Felonious Bosch and The Brass Messengers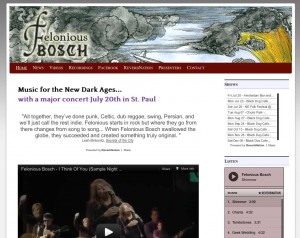 Pure music, and a cross-post as well. I recently launched a makeover on the Felonious Bosch website (using WP Weaver with a rotating header graphic of art by Albrecht Durer, colorized by David Stenshoel), and the band have a concert coming up tomorrow July 20 with The Brass Messengers in Saint Paul at the Amsterdam Bar And Hall.
Opening the show at 9:30 pm are a violin / cello / drum kit trio called Clocks & Clouds.
Whittney Streeter made a lovely piece of poster art (at right) and earlier this week, FnB and tBM rehearsed the Scott Nieman tune "Chania" together.
Here's a brief brasstastic excerpt: