Tomorrow is the Minnesota Record Show at the VFW Hall on Lyndale Avenue in South Minneapolis. For the past couple years, I've been dragging myself out of bed way too early, filling the car with records, and hanging out all day with a roomful of vinyl fans.
The show was started in 1992 by the late James "Hymie" Peterson (whose name lives on) and Rich Shelton; it's currently run by Tom Novak, with sponsorship from community radio station KFAI where I was a DJ many years ago.
Encouraged by vinyl guru John Kass, I started selling at the show around two years ago. Once day I tried to look up the date of the next show on my iPhone — but I could not get the information because the old website was all Flash. This sounded like a project…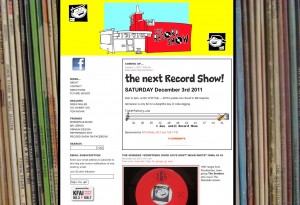 Today, Tom's running the whole thing himself, streaming rare Midwest 45s from his collection, and setting up the countdown clock for the next record show.
To help get the word out, I redesigned the show postcard, keeping the original hand-drawn graphics, adding the Eatwell Chubby and Eatwell Skinny fonts by Chank.
Made with wordpress.com (Benevolence theme), Quark Xpress, Adobe CS.