Felonious Bosch digital single
Felonious Bosch have two new songs for the winter season:
I Think of You backed with Shimmer.
The first song is an original by Katy Thomasberg with a ripping e-fiddle solo by David Stenshoel.
The second is based on a Sephardic piece called Sa Da Wi, with new lyrics by Katy. Nemo brought the tune to thee Bosch after an earlier version by Seven Thieves.
We recorded and mixed these two at dubNemo in North Minneapolis.
Artwork borrowed from Pieter Brueghel's "Hunters In The Snow" from 1565.
Listen above (via SoundCloud); buy them on
Here's the "original" of Sa Da Wi (great tune with a black screen):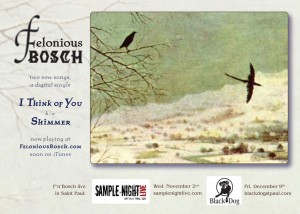 Also created a postcard for FnBosch performances Nov. 2nd, 2011 at Sample Night and Dec 9th at the Black Dog (Quark Xpress + Adobe CS).