Digital archaeology and the gallery of defaced album covers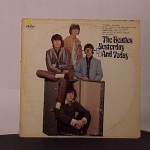 A Twitter comment today prompted me to see if I could dig up these photos for Go Johnny Go (a.k.a. John Kass):
"I've wanted to post this for a very long time. Drew Miller, the man who makes computer dreams come true, today found this set of photos taken about ten years ago. I had been setting aside the defaced albums that I had found while collecting records, intending to document them someday somehow."
The pix were taken in 2002 on a Sony Mavica
(#48 on this list of the 50 best tech products ever – the Mavica could even do stop-motion animations by splitting the image into 9 parts.) Harvesting all that data off floppy disks took quite a long time, but being a digital hoarder takes up less space than in the physical realm. Along with loads of 640×480 pix, there was a huge stack of obsolete software, and miscellaneous business files. Even a stack of 500 completely full 1.2 MB floppies would easily fit on to a single CD-R (and who burns data to CD-Rs any more? — time to harvest those MP3 CDs…).
Soon after that, I met up with the band Phantom Tails while playing Czeslaw's Loop in May 2011. They save and play their beats using floppies, so I persuaded them to accept a lifetime supply of disks, just before we played together on the banks of the Mississippi while tornadoes descended on North Minneapolis.