Songs And Dances of Madisonia
I go way back with Madison's The Reptile Palace Orchestra, beginning with a concert Boiled In Lead did with them sometime in the 1990s.
From their beginnings as an acoustic international folkdance band, they've developed a unique sound that they sometimes call "Balkan lounge funk."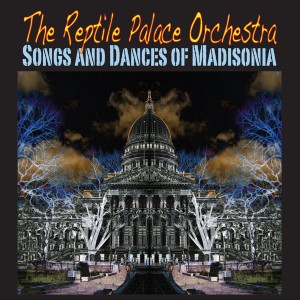 Their new record, Songs and Dances of Madisonia is available today. (Opening a cardboard box to see a new record in print for the first time is so much more satisfying than clicking "upload to itunes.")
A few minutes ago, wearing my "record company hat," I wrote this brief description:
The Reptiles return with a 14-song set that's reverberating throughout Madison Wisconsin, hotbed of "people-powered-politics." After a long day marching around the square and occupying the Capitol, everybody needs great music to dance to. Multiple hit songs and dance tunes from Bulgaria, Turkey and Macedonia — beloved by the "US international folkdance cult" — mix with an original song once played on "A Prairie Home Companion" and a Roaring Lion calypso promoting good hygiene.
The package was designed by illustrator / guitarist Bill Feeny, formerly of Appliances-SFB. He and cellist Seth Blair both work at the University of Madison Zoology Department. You'll also hear genius fiddleplayer Biff Blumfumgagnge on all sorts of noises.
When pressed to describe what gets released on Omnium, the shortest answer is always "music I like." This is no exception to that rule; influences from everywhere blend into a tasty stew, spiced with the wild rhythms of Balkan dance music by fearless players with a great sense of humor. Play it loud.
• • •
Omnium's released 3 previous RPO records:
For this release, my graphics work was pretty minimal: coaching and discussion from the record label perspective, add Omnium logo and barcode from Bill Feeny's Illustrator files, and getting it manufactured in time for their concert at Folk Ball in Madison this weekend alongside like-minded bands such as Yid Vicious and Orkestar Bez Ime.